We are all about promoting healthy eating!
————————————————————————————
Here at Viewpark Montessori Nursery, our menus are created in accordance with 'Settling the Table' guidelines. Our nursery cook freshly prepares all of the meals, and researches new and exciting recipes for our seasonal menus.  The children enjoy participating in tasters, where they will try new foods and vote on which meals they like the best. This allows the children to express their likes and dislikes, while experiencing a variety of tastes and textures. We ensure that we take into account dietary needs of each child, and an alternative meal will be provided if it is required due to allergies and so on. Our meals are only served with water and milk, following the same guidelines from 'Setting the Table'. 
———————————————————–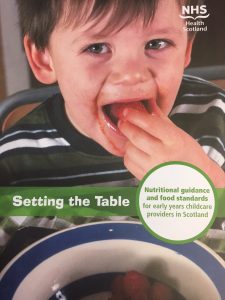 ———————————————————-
The week commencing 3rd of December 2018 is when our new menu will begin – this will be in place until March 2019. Below is a link to the menu where you can see the variety of food the children are experiencing. Please feel free to have a look at our menu, we are also more than happy to provide copies of our recipes to families who may wish to try them at home. 
---
Winter Menu
Nursery Menu – December 2018 to March 2019
---
Summer Menu
Nursery Menu – August 2018 to Novemner 2018
---