Welcome to The Little Stars Baby Room
The Little Stars Playroom caters for our babies and our youngest children. We use each child's interests and learning style to plan the daily activities and implement the Pre-birth to 3 Curriculum to ensure the planning of activities are suitable to each child's individual stage of development.
We create record children's individual development through observations, which are recorded on Learning Journals Software Programme. These records follow the children as they progress through the nursery. Each child's learning story is shared with you on line through Learning Journals and at parents meetings or when you visit the nursery, you can even view these at home, it is a record of your child's achievements.
Getting Crafty!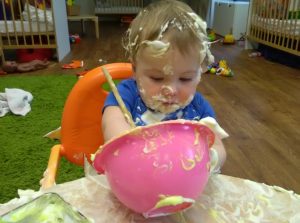 We like to children to get involved in all sorts of creativity, which ranges from body painting to car rolling! The children explore paints with their hands and different tools to learn about mark making. The children are introduced to lots of different textures, such as gloop, pasta, shaving foam and natural objects such as pine cones and leaves. We put together treasure baskets filled with lots of unusual items to develop the young children's sensory skills.
The children explore the outside environment, developing their physical development and understanding of the natural world. We use outside play to encourage and develop the children's gross motor skills using slides and push along toys! We take the children for walks around the nursery to show the children different environments.
We have lots of colourful, noisy and stimulating resources to develop all areas of development such as instruments, construction blocks, cars and action toys.
---
Creating a comfortable Environment for the children.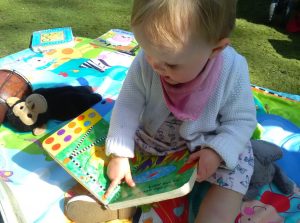 In the playroom we also have a cosy area for the children because young children respond well when comfy and cosy in their environment. The children can use this area to relax and have some quiet time. The children can also read books there or look at our collection of family photos!
At the end of each day you will receive one to one feedback on what your child has been doing in nursery, this is recorded in their daily diaries.