Welcome to The Sunshine Room
Our Sunshine Playroom is more of our younger children who are more confident in their mobility, the playroom can host 15 children at a time. Again, this room follows the Pre-birth to 3 Curriculum – a Scottish Government document that provides information and guidance for childcare practitioners.
It values babies and young children and recognises individuality and their achievements. We create personal records of the children Learning Journals, where we relate the children's work, comments and achievements to statements and milestones from the curriculum.
There is regular planning, which is derived from the children's next steps for learning and their personal interests. The children have 'ownership' over what they are learning and are then motivated to explore all activities, toys, games and experiences to their full potential.
Development & Imagination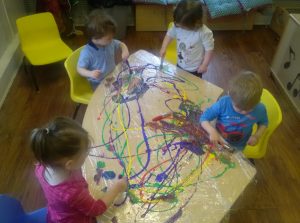 In the Sunshine Playroom we provide a wide range of stimulating toys to encourage their development and imagination. We have a home corner, which changes from a home to hairdressers and even to a fire station. If a child has a particular interest we will adapt the area to support this.
We provide a range of craft activities such as painting, drawing, chalking, sticking and support the children as they learn to hold and use pens, pencils and other writing materials. At the same time developing fine motor skills.
We also enjoy exploring a wide variety of things in our messy tray, we use different items to explore ranging from gloop, play dough, baked beans, water, sand, cereal and anything else the children show an interest in! These activities encourage the development of the children's exploration and personal, social and emotional development.
---
Comforting and Cosy Environment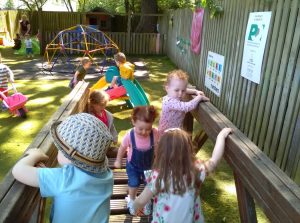 We have a cosy corner, which has a range of stories to share, blankets and large cushions to snuggle on. Around our cosy corner are photos of our families. These help to build up a link between home and nursery for the child.
We also display photos around the playroom of the children engaging in activities with their peers and most importantly we display children's work, giving a sense of achievement and pride in all that our young children do.
The children engage in a short group time, this includes singing and exploring musical instruments. Group times begin to encourage the children's sharing and turn taking skills.